What is Mercedes-Benz PRESAFE®?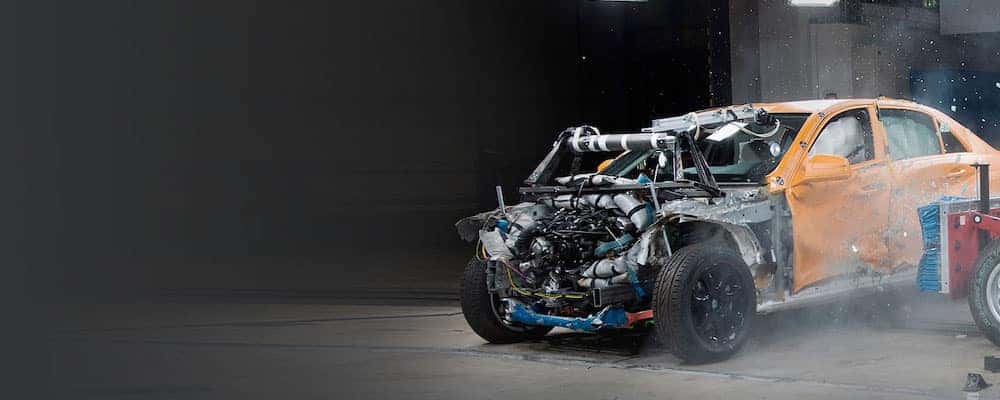 Mercedes-Benz PRESAFE® is one of the high-tech safety features available in many new Mercedes-Benz models. The PRESAFE® Mercedes-Benz technology activates if the possibility of an accident is detected, and the system engages features to increase the safety of passengers. Learn more to find out if PRESAFE® is a system that will help you on Scottsdale roads, and contact us if you have any questions!
What Can the PRESAFE® Mercedes-Benz System Do?
When your Mercedes-Benz vehicle's many sensors detect that an accident is imminent, the PRESAFE® safety technology kicks in, taking steps almost instantaneously to reduce the risk of injury to vehicle occupants:
The head restraints in the driver and passenger front seat adjust for optimum crash protection, moving to the best position to prevent/reduce injury.
The system automatically closes the windows and sunroof if the possibility of a rollover is detected, to prevent debris from entering the cabin.
The tension in the front safety belts is increased to protect the occupants from injury.
PRESAFE® Sound: This additional system is available in select models. It emits a tone that causes a reaction in the inner ear to protect your eardrum from the loud noises of a car crash.
This technology works in tandem with other Mercedes-Benz features for the utmost assurance on any Mesa or Fountain Hills roads you may venture on.
Which Mercedes-Benz Vehicles Offer PRESAFE®?
The Mercedes-Benz PRESAFE® is a system included standard or available with the following models:
Mercedes-Benz C-Class
Mercedes-Benz E-Class
Mercedes-Benz S-Class
Mercedes-Benz CLA
Mercedes-Benz CLS
Mercedes-Benz GLA
Mercedes-Benz GLS
Mercedes-Benz SLC
Mercedes-Benz SL
Contact us at Mercedes-Benz of North Scottsdale to find out if a Mercedes-Benz model you are considering includes PRESAFE®.
What Does "PRESAFE® Functions Limited" Mean?
If you have PRESAFE® in your Mercedes-Benz and you notice a warning on your dashboard information panel that says, "Pre Safe Functions Limited," Mercedes-Benz service may be needed. This message typically means that one of the system's sensors needs adjustment or cleaning. Schedule service with Mercedes-Benz of North Scottsdale to determine the issue and get everything functioning smoothly again.
Get Peace of Mind With a Vehicle From Mercedes-Benz of North Scottsdale
Learn more about Mercedes-Benz systems, from ATTENTION ASSIST® and DISTRONIC PLUS® to Active Brake Assist and BlueTEC® when you visit Mercedes-Benz of North Scottsdale for a test drive. You can also get the latest Mercedes-Benz accessories for added style on Phoenix roads!
Learn More at Mercedes-Benz of North Scottsdale
Luxurious features, generous dimensions, and seating for up to seven passengers are just a few of the distinguishing characteristics of the 2021 Mercedes-Benz GLB interior. Although this Mercedes-Benz SUV is certainly compact, it's anything but cramped or constraining. Once you've got a sense of what to expect from its cabin, we think you'll agree…

The 2021 Mercedes-Benz Sprinter Van towing capacity ranges from 5,000 pounds to 7,500 pounds, so review your options carefully before you try to hook up a trailer! So, how much can your Mercedes-Benz Sprinter Van tow? Here's a general overview: The Sprinter Passenger Van can tow up to 5,000 pounds. The Sprinter Cab Chassis can…

The 2021 Mercedes-Benz S-Class interior is offering more than ever before, and everyone wants to know what to expect from the latest version of the brand's unquestionably dominant flagship luxury sedan. We've broken down everything that our Scottsdale-area neighbors have been asking about, from the 2021 S-Class interior features to its impressive interior dimensions….