What Is Mercedes-Benz DISTRONIC PLUS®?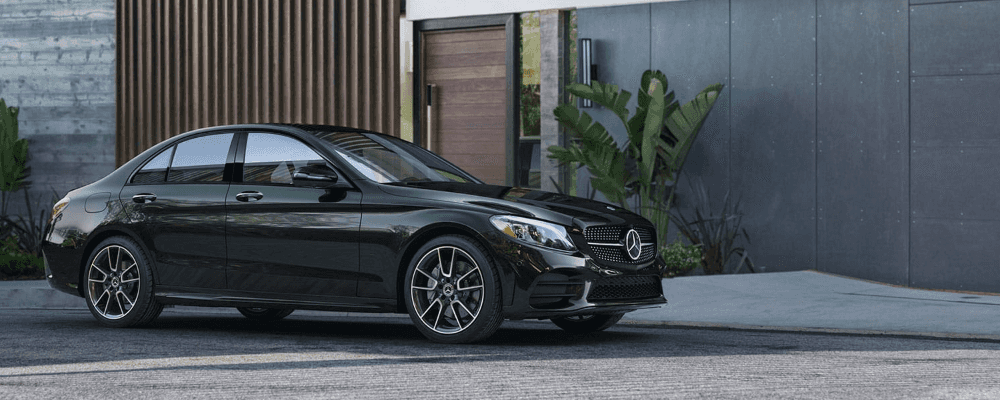 The DISTRONIC PLUS® active cruise control system maintains an even distance behind traffic ahead of you. This system uses radars to monitor the distance between your Mercedes-Benz model and the vehicle in front of you to help you better move with the flow of traffic while keeping a safe distance from other vehicles. DISTRONIC® is available in most new models, including the Mercedes-Benz CLA 250 and the Mercedes-Benz GLA SUV. Learn more about our models with the DISTRONIC PLUS® feature at Mercedes-Benz of North Scottsdale in Phoenix.
How Do I Use DISTRONIC PLUS®?
If your Mercedes-Benz model is equipped with this driver assistance feature, we can help you learn how to use it to enhance your Scottsdale drives. Here's what you need to do:
Much like a normal cruise control system, the DISTRONIC PLUS® controls are located on a lever attached to your steering column.
To set your cruising speed, move the lever up or down. You can then fine-tune your speed by moving the lever up to speed up, or move it down to slow down. It changes your speed by one mile per hour.
If you press the lever hard, it changes the speed by five miles per hour.
To cancel your cruise control setting, push the lever away from you or press the brakes.
If you want to resume the last set speed, simply pull the lever toward you.
A knob on the end of the lever adjusts the following distance behind the vehicle ahead of you. It shows the distance on the central screen.
If the traffic ahead stops completely, the DISTRONIC PLUS® system will bring your car to a stop. If the stop is longer than three seconds, you can resume the system by tapping the gas or pulling the lever toward you.
As with any cruise control system, DISTRONIC PLUS® should only be used on highways, and the driver should remain aware of their surroundings at all times. If you want to learn more about this feature, you should check your vehicle's owner's manual or contact Mercedes-Benz of North Scottsdale, your local Mercedes-Benz dealer.
What Is DISTRONIC PLUS® with Steering Assist?
The DISTRONIC® Steering Assist feature helps keep your Mercedes-Benz vehicle in its lane. It uses sensors to monitor lane markings as well as the vehicle's surroundings to make proper steering adjustments, compensating for curves and monitoring traffic. DISTRONIC PLUS® Steering Assist also monitors driver conditions such as if the driver's hands are still on the wheel. This additional level of safety and convenience supplies more peace of mind on the hectic streets of Mesa.
Which Mercedes-Benz Models offer DISTRONIC® Cruise Control?
DISTRONIC® cruise control systems are included standard or available in the following Mercedes-Benz vehicles:
Mercedes-Benz C-Class
Mercedes-Benz E-Class
Mercedes-Benz S-Class
Mercedes-Benz CLA
Mercedes-Benz CLS
Mercedes-Benz GLA
Mercedes-Benz GLC
Mercedes-Benz GLE
Mercedes-Benz GLS
Mercedes-Benz G-Class
Mercedes-Benz SLC
Mercedes-Benz SL
Turn to Mercedes-Benz of North Scottsdale to Learn More
No matter whether you're looking for, or have, a model with DISTRONIC®, DISTRONIC PLUS®, or DISTRONIC PLUS® with Steering Assist features, you can learn more about these features and our models at Mercedes-Benz of North Scottsdale. Contact our dealership today and take your favorite new Mercedes-Benz model for a test drive around Fountain Hills. We can also answer any questions you may have about other brand technologies, like BlueTEC® or 4MATIC®.
More from Mercedes-Benz of North Scottsdale
Luxurious features, generous dimensions, and seating for up to seven passengers are just a few of the distinguishing characteristics of the 2021 Mercedes-Benz GLB interior. Although this Mercedes-Benz SUV is certainly compact, it's anything but cramped or constraining. Once you've got a sense of what to expect from its cabin, we think you'll agree…

The 2021 Mercedes-Benz Sprinter Van towing capacity ranges from 5,000 pounds to 7,500 pounds, so review your options carefully before you try to hook up a trailer! So, how much can your Mercedes-Benz Sprinter Van tow? Here's a general overview: The Sprinter Passenger Van can tow up to 5,000 pounds. The Sprinter Cab Chassis can…

The 2021 Mercedes-Benz S-Class interior is offering more than ever before, and everyone wants to know what to expect from the latest version of the brand's unquestionably dominant flagship luxury sedan. We've broken down everything that our Scottsdale-area neighbors have been asking about, from the 2021 S-Class interior features to its impressive interior dimensions….